Superb Pressure Washing Company In Vero Beach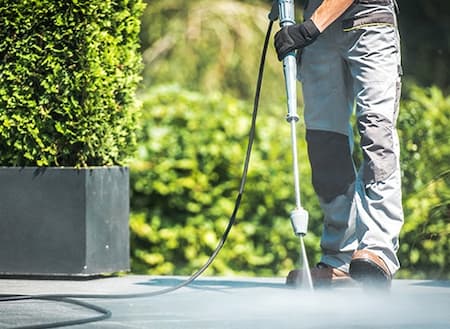 You'd have to search pretty hard to find a filthy home or business in Vero Beach, and that's because the people here know they can depend on Mahi Pressure Cleaning to keep their exterior surfaces gorgeous! People rely on our top-rated pressure washing services when they want to take their curb appeal up a notch and keep it there!
Not all of your exterior surfaces are the same, so there's no one-size-fits-all solution to cleaning them up. In Vero Beach, the professional pressure washing technicians at Mahi Pressure Cleaning have years of experience cleaning all surface materials, and our experts know how to achieve the best results without cutting corners. We have the skills and equipment you need to get your property looking spectacular again, and you can rest assured that when you hire our team, we'll treat your surfaces with the same precision and respect that we would treat our own.
When you need top-notch pressure washing in Vero Beach, you can trust our company for dependable services that include:
Driveway Washing
Commercial Pressure Washing
Sidewalk Cleaning
Pool Deck Cleaning
Paver Sealing & Cleaning
Patio Cleaning
Concrete Painting & Staining
And Much More
There's no project too challenging for our team! For first-rate pressure washing you can depend on in Vero Beach, give Mahi Pressure Cleaning a call at 561-385-1022.
Your Vero Beach Roof Cleaning Experts
It's nice to have a roof over your head, but it's even better to have a clean roof because that will elevate your property value and serve you longer. If you're in Vero Beach and could use some professional roof cleaning, don't hesitate to contact Mahi Pressure Cleaning!
Our professional roof cleaning service is just what your shingles need to keep a gorgeous appearance and enjoy an extended lifespan. By removing harmful contaminants and unsightly substances, our specialists will give your roof a superior form of protection against degradation and weather damage. You'll love the way your curb appeal looks after we've gotten your roof spotless! When it comes to protecting your home and avoiding expensive shingle repair costs, nothing beats roof cleaning by the pros at Mahi Pressure Cleaning!
Superior House Washing For Vero Beach
Even though house sidings are durable, they're also prone to collecting harmful and unattractive substances that can, in time, cause them to deteriorate. This doesn't need to happen to your Vero Beach home, and our house washing service is the perfect way to avoid any damage to your curb appeal!
Professional house washing by our experts is a small investment that will end up paying for itself in the long run. With our service, you'll benefit from:
Spotless sidings that will enhance the visual appeal of your home
Complete disinfection of your sidings that will promote better health
Removal of stains and organic substances such as algae and mildew
Long-lasting protection against degradation and weather damage
Reviews & Testimonials on Mahi Pressure Cleaning in Vero Beach, FL
There are currently no reviews or testimonials, check back soon!
Trust the Best!
Call Today to Receive Your Free Quote on Pressure Washing in Port St. Lucie & the Treasure Coast!