Commercial Pressure Washing For Vibrant Port Saint Lucie Businesses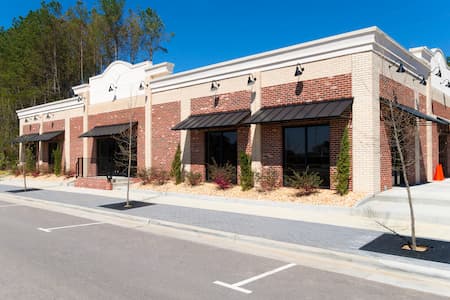 When you need the exterior surfaces of your Port Saint Lucie business looking better than ever, Mahi Pressure Cleaning is the company to call! Our commercial pressure washing service is perfect for restoring your property's beauty and increasing your customers' confidence.
Having a successful business means keeping a reliable, professional appearance, and nobody knows that better than Mahi Pressure Cleaning. Our exterior cleaning experts are who people depend on time and again because we take pressure washing for Port Saint Lucie to the next level. When our commercial pressure washing team is at your property, we aim to make your surfaces look better than ever. We understand what the climate here does to your surfaces, and we've mastered the art of removing all kinds of unsightly substances and grime.
If you need commercial pressure washing from an experienced team of surface cleaning experts, consider calling Mahi Pressure Cleaning for professional services such as:
Storefront Cleaning
Parking Lot Cleaning
Dumpster Pad Cleaning
Drive-Thru Washing
Sidewalk Cleaning
Building Washing
And More
To be successful, you have to look the part, and that's true for businesses as much as it is for individuals. For commercial pressure washing that will make your Port Saint Lucie surfaces look brand new, call Mahi Pressure Cleaning at 561-385-1022.
Exterior Business Building Cleaning
The exterior surfaces of your building are constantly being bombarded by UV rays, wind, rain, smog, dust, and numerous other elements. This means that no matter how durable your surfaces may be, they will eventually look worse for wear, and if not professionally maintained, they could end up needing to be replaced.
Commercial pressure washing is how businesses keep a beautiful appearance and avoid the expense of having to repair or replace their surfaces. At Mahi Pressure Cleaning, we use the industry's most advanced pressure washing systems to clean away corrosive and harmful substances no matter how hard to reach they might be. When you call us for commercial pressure washing, our technicians will carefully wash every inch of your surfaces to ensure they clean away anything that detracts from their visual appeal or cause them to degrade. After we're finished, your building will look brand new again, and that will boost the confidence of new and repeat customers alike.
Pressure Washing Services You Can Depend On
Commercial pressure washing is one of our specialties, but we also provide many other top-notch pressure washing services! Whether it's for your home or your business, you can rely on Mahi Pressure Cleaning to bring your exterior surfaces back to their original glory. Give our team a call the next time you need pressure washing treatments such as:
Driveway Washing
Paver Sealing & Cleaning
Concrete Painting & Staining
And Much More
Trust the Best!
Call Today to Receive Your Free Quote on Pressure Washing in Port St. Lucie & the Treasure Coast!